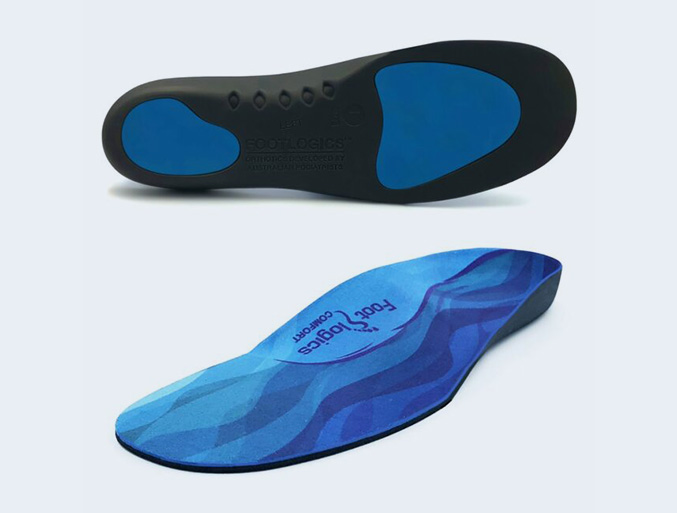 Posted on May 18 2021
The benefits of wearing orthotics for foot pain
There are several benefits of wearing orthotics for foot pain and related disorders. For one, foot orthotics help secure proper positioning for foot, ankle, and knee bones. They also ensure optimal balance and flexibility, while drastically improving ankle motion range. Furthermore, orthotics and insoles help keep the ligaments and muscles aligned, which relieves stress and tension in the hips and legs. This also helps prevent injuries and aggravation, while eliminating unnecessary stretching during exercise and everyday chores. As an industry leader in orthotics, Footlogics is a reputable company with years of extensive industry experience in tackling foot pain. We specialize in insoles and medicinal shoes guaranteed to ensure maximum comfort for PF and other foot ailment sufferers.
Other benefits
Foot orthotics are also designed to decrease muscle fatigue. This helps increase vital energy levels, while securing optimal and efficient muscle performance. Due to countless biomechanical issues stemming from plastic deformation, the connective tissues within the feet tend to experience constant and repetitive stress. Over time, the tissues may even stretch, resulting in sporadic to excruciating pain and discomfort. This also results in greater bone instability, which is the direct cause of fallen arches, over-pronation and several other foot problems and disorders. Orthotics helps tackle these issues by absorbing tension within the feet. This helps prevent transmission of pain up the knees, hips, and legs, which strongly resemble sciatic nerve issues.
Prime Candidates
In addition to athletes, there are countless others that can truly benefit from wearing orthotics on a regular basis. This includes industrial workers who tend to walk or stand on hard surfaces each day. Those that have experienced previous foot or leg injuries will surely benefit as well. Whether you have problems walking, running, jogging, or even standing, orthotics can help you regain proper posture and restore maximum mobility again. Over the years, many people have worn orthotics and have heralded these products and accessories for literally giving them their lives back. This includes foot pain sufferers, along with those experiencing sporadic or chronic back and knee pain. Orthotics are especially instrumental for diabetic sufferers, as well as those suffering from joint pain related to arthritis.
Footlogics
Footlogics prides itself on providing cutting edge orthotics for everyday life. From plantar fasciitis and flat feet to heel issues, our products have helped countless customers tackle foot related pain and problems. With an extensive presence in Australia and Oceania, we recently embarked on expanding our products and services to American audiences. As global leaders in scientific foot orthotics, we have received stellar reviews from clients and critics alike. Our market scope includes European clients from all "walks" of life, as well as recurring customers at our user-friendly online marketplace. If you are experiencing chronic foot pain as a result of injuries or simply Mother Nature, simply visit our site and store for a full range of orthotics guaranteed to deliver. Out informative blog is also the perfect venue for staying abreast on all the latest in footwear and industry developments.As discussed in previous blogs, plantar fasciitis mainly affects athletes from a range of sports. They also affect people that are accustomed to standing for long hours. PF, however, is not just relegated to athletes and can impact anyone at anytime. Custom orthotics not only alleviates the pain and tension, they also help increase endurance and stability. Even for people battling obesity and weight issues, these amazing products are guaranteed to help them reduce the stress. This is especially true for their legs and feet, which must carry the weight in order to keep them mobile. While losing weight and living a healthier lifestyle is essential, orthotics are designed for simply one and all. In fact, they provide both short and long-term relief, while helping people avoid foot related issues and even costly surgical procedures for restoration.