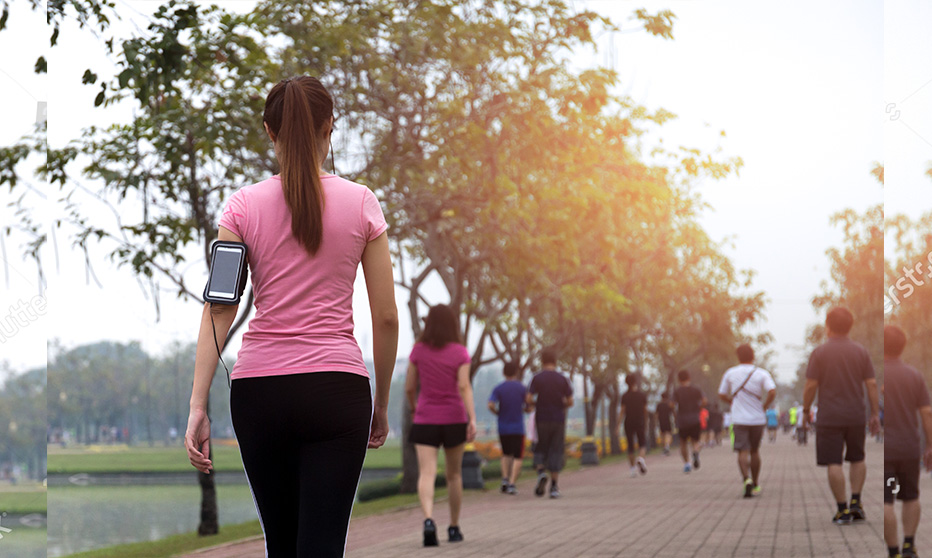 Posted on Feb 13 2018
How Walking Helps You To Cut That Extra Flab
Not a fan of heavy workouts? Looking for other options to lose weight? Walking can be the perfect solution for those extra pounds around your belly. You can lose up to 7 to 9 pounds a week, but only if you know how to make the most of your walking sessions. The best part about walking is that it is easy, enjoyable and does miracles for your health without much of a labor. Walking has become popular over the past few years as an excellent way to lose weight. Several doctors and nutritionists highly recommend walking for everyone. Two things to remember while taking a walk:
Know and keep a count of the steps you need to take every day
Commit and record the number of steps you take regularly for comparisons
Preparing For The Walk
Things You Need:
Walking shoes that perfectly fit your feet without causing any discomfort or pain
Gym wear or sportswear or track pants or any active wear that is flexible and comfortable
A sports or smart watch to keep a track of your activity
A fitness app on your phone
Sipper or a water bottle
Calories You Can Burn By Walking
Depending on your body type, BMI, Weight and your walking pace of course, you can lose up to 15-20 pounds over a few weeks. If you want to achieve this, you must walk briskly every day for about 40-50 minutes. Also, in case you are not in a hurry and want to lose weight slowly, make sure that you walk at a normal pace and burn 7-8 calories per minute.
Miles You Need To Walk Every Day
Walking is not just about counting miles or steps you take but the number of calories you burn in a day. For instance, if your food intake is significant and you start with normal or slow walks, you will burn fewer calories which will not be enough for visible weight loss. You can always increase your pace a little and reduce your food intake so that your body enters in a calorie deficit mode. This helps your body use up the stored fat as fuel and you lose that extra weight faster.
Walking For Weight Loss
It Burns Calories
An hour of walking every day along with a healthy and nutritional diet helps cut down extra flab. Remember, the number of calories burnt is directly proportional to the pace and distance covered while walking.
Reduces Risk of Diseases
Walking enhances blood circulation and keeps all heart-related issues at bay. It also increases bone density and reduces the risk of osteoporosis. Addition to this, walking also reduces the risk of diabetes, colon and breast cancer.
Energizes Your Body
Walking stimulates blood circulation and also improves your metabolism. Keep in mind that a brisk walk also perks up your mood along with your energy levels.
Best, Simple and Easy Workout
Walking is one of the most economical ways to stay fit and active. It doesn't require you to be at a certain venue or place. You can start walking anywhere and at any time.
Safety Tips To Consider While Walking
Opt for early morning walks so that you have a reason to get out of bed and are able to take in the fresh air. You will feel energized throughout the day and have better concentration at work too. Do not walk after meals as it might hinder the breakdown of the food. Keep your body well hydrated before you go out for a walk. Stay away from energy drinks and bars as they are nothing but a marketing gimmick. Opt for bottled mineral water or coconut water instead. Wear shoes with plenty of support inside. Footlogics orthotics are the ideal insole for walking. So, what are you waiting for? It is time to put on your sneakers and walk your way towards a fitter and energetic life. Do let us know your queries and share your experience by commenting below.
Cheers to good health!